Special Thali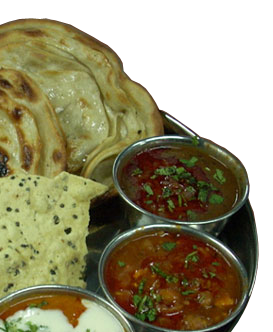 Amritsari Aloo Kulcha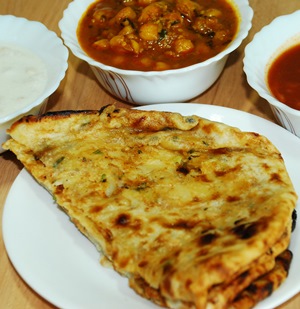 Amritsari Aloo Kulcha is made by stuffing potato filling into it. The dough required to make the Amritsari Kulcha is prepared in the same way as we knead to make any simple kulcha or bread. Lets start our preparation to make Amritsari Aloo Kulcha - Stuffed Kulcha.
Ingredients for Stuffed Kulcha Recipe
Maida (white flour) - 400 gms. (3 cup)
Curd - 3 table spoon.
Baking soda - 1/3 tea spoon.
Baking powder - 1/2 tea spoon.
Sugar - 1 tea spoon.
Oil - 1 table spoon.
Salt - 3/4 tea spoon (or according to the taste)
Carom seeds or cumin seeds - 1 tea spoon.
Ingredients to prepare the filling.
Potato - 300 gms. ( 4 boiled)
Salt - 1/2 tea spoon (or according to the taste)
Green chilli - 1-2 (chopped)
Ginger - 1 inch long piece (grated)
Amchoor powder - 1/2 tea spoon.
Coriander powder - 1 tea spoon.
Red chilli powder - 1-2 pinch.
Garam masala - 1/4 tea spoon
Coriander leaves - 1 table spoon (chopped)